In a quest to meet up with an old girlfriend for lunch, I found myself in
Adekunle
,
Yaba
.
The way I felt initially, you would think I did not grow up in this environs. Thankfully I had someone else with me, who was very familiar with the terrain.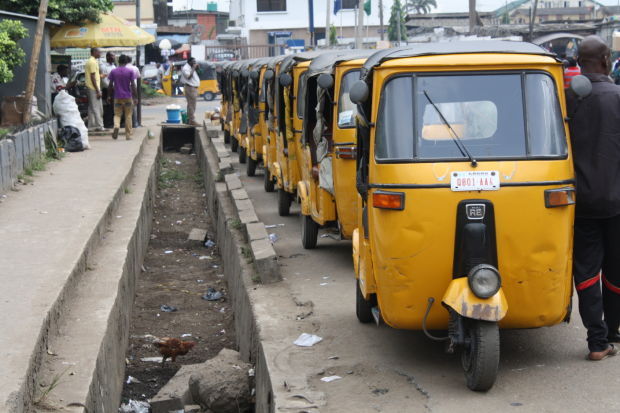 Keke Napep Queue
Courtesy: Journalnow.com
So we waited at the traffic lights, then entered Keke Napep (that's the three wheelers, called
Boda Boda
in
Kenya
).
These three wheelers have somewhat replaced the two wheelers that were becoming a concern in
Lagos
. There is almost no community that they cannot be found, in Lagos. I'm sure its because they are the primary means of transportation for short distances, for the masses.
I remember it was a small surprise seeing them in
Nairobi
, and then in
Kampala
last year. It makes sense that
Africa
would be the primary importer of this tiny vehicle.
We alighted at our stop, minutes later, and strolled to the lunch date location.
Notice I did not call it a restaurant.
White House
cannot be labeled as a restaurant at all, because it is more of a 'joint', and has never aimed to be the most visually appealing, or sanitarily clean eating location. White House is a local food canteen that has evolved over the decades, into just the place that people come to, from the environs, to eat and enjoy. Its menu comprises mainly of local cuisine. In fact, the only closely exotic meal you can order there is
Fried rice
.
White House, can never compete with its namesake, but from what I saw yesterday, it is still being patronized by the workers in the environs, as well as geeks of all types.
Girlfriend and I, before diving into our meals
We ordered, ate, and pretty much caught up on what we had missed since we saw last, last year.
The Amala, topped with Gbegiri and Ewedu, was alright.
I missed Lagos.
Glad to be back.
Happy New Month!